How to Sell on Social Media in 2020
If you've ever shopped online (which, who are we kidding, of course you have), you know the benefits of e-commerce well. A few clicks here, a tap or a swipe there, and next thing you know, your package is on your doorstep. It's idyllic, to say the least.
But why has social shopping in particular become so popular? Why not leave the browsing and buying to sites like Amazon and eBay or directly from a brand's website?
With how much time people spend on social media, it's no surprise that they'd rather not be redirected to another website. Afterall, who's spending 17.5 hours on Amazon each week? And with 67% of social media users accessing their accounts from mobile devices, being able to easily complete a purchase on the go is critical. Social e-commerce enables customers to shop right where they are without clicking off to another site or app, allowing them to move seamlessly between discovering and purchasing, right from their mobile devices.
What is social commerce? Social commerce is a form of e-commerce that involves the use of social media platforms to promote and sell products and services.
For businesses, social commerce has lots of benefits too. Rather than building a website and driving new traffic to it, you can list your products where your customers are already spending their time — whether that's Facebook, Instagram, Pinterest, or even Snapchat.
Social media audiences are substantial, to say the least — Facebook's total user-base is roughly the size of four European Unions. So, selling on these platforms open doors to billions of potential customers. Look how many monthly active users are on some of the top social platforms: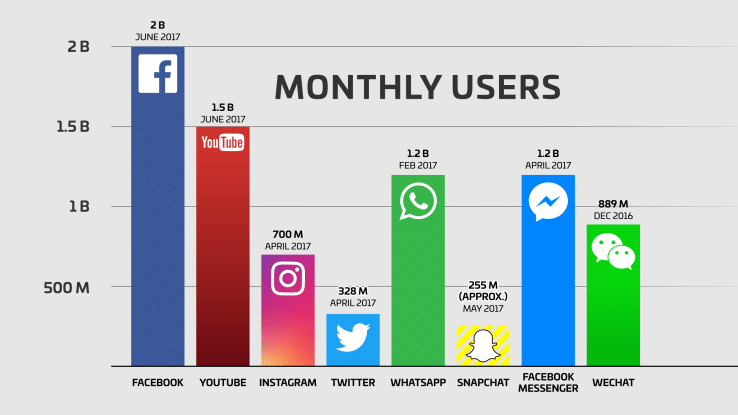 Facebook — 2.23 billion
Instagram — 1 billion
Pinterest — 250 million
YouTube — 2 billion
Snapchat — 225 million
Twitter — 335 million
Advertising on social media is like getting a billboard in Times Square at a fraction of the cost.
And social media works: in 2019 young people discover more brands through social media than TV, newspapers, and blogs combined.